How diversifying and supporting clinical teams can help solve healthcare's DEI problem
---
Michelle Higginson, MBA Co-Founder & COO, Inlightened
The life sciences sector is constantly striving to launch safe, effective and profitable solutions. However, 30% of all recently launched pharmaceuticals have failed to meet market expectations. A study by Deloitte found that a lack of understanding of customers (patients and prescribers alike) and their needs is one of the biggest reasons for this failure.
We know diverse clinical trial participation matters. Increasing site diversity is fundamental to public health and is not limited to patient participants. Clinical trial sites face challenges in diversifying personnel, including principal investigators (PIs), sub-PIs, trial coordinators, etc.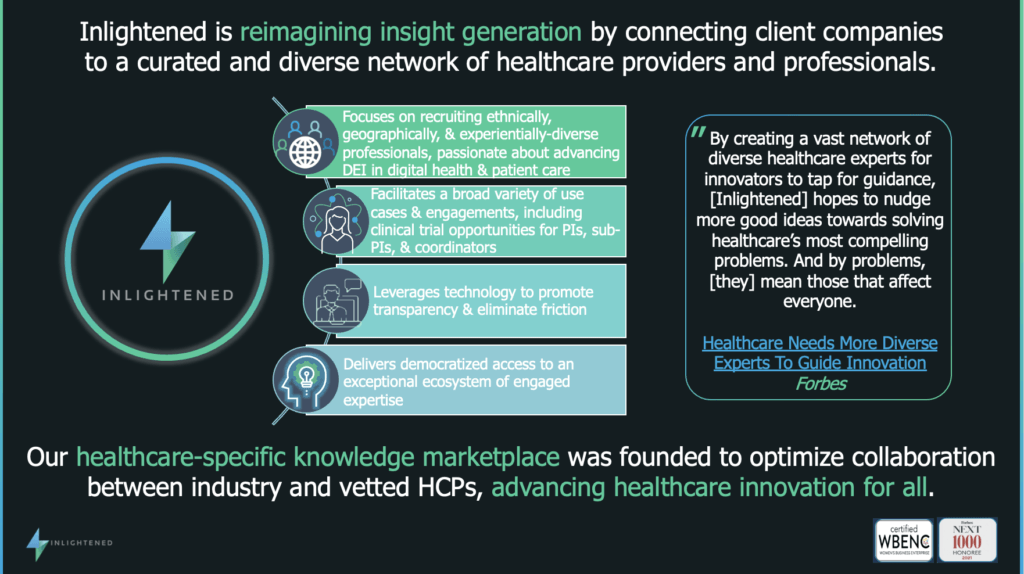 At Inlightened, we believe that healthcare innovation — including the development of better solutions and improved ways to combat diseases — starts at the top, with diverse expert insights. By engaging these professionals throughout the innovation lifecycle, organizations can ensure that their solutions are safe and effective for a broader range of patients. Including and prioritizing diverse perspectives can help identify potential issues and build trust with underrepresented communities, leading to better patient outcomes, improving the launch's overall success, and supporting long-term performance.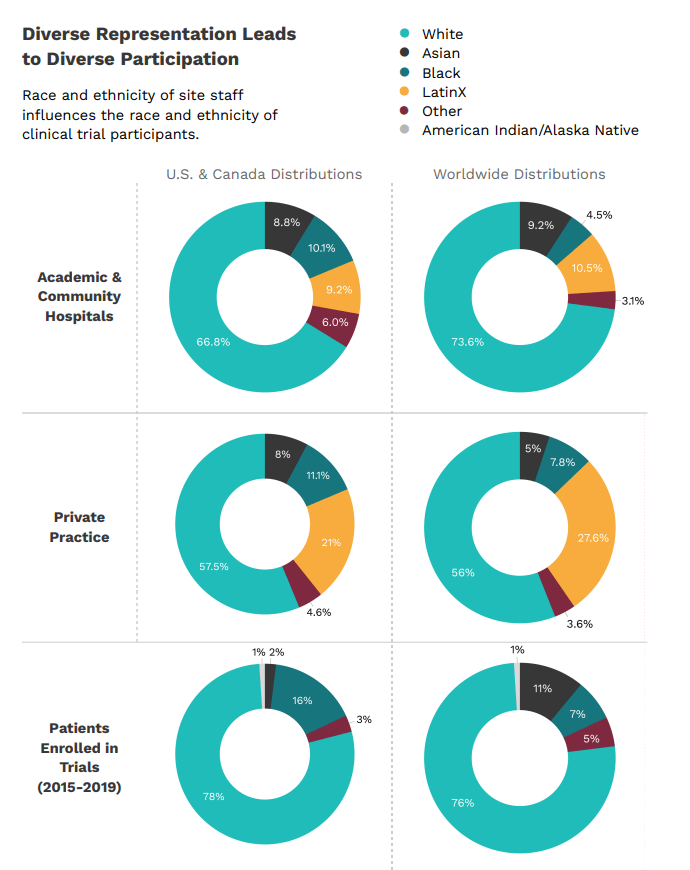 Here's what our Inlightened experts think about building trust and advancing health equity to ensure a brighter future for all, not just the over-represented few.
Upstream impacts of care team creation and community participation
"As we seek to address the inequities in healthcare, the upstream impacts of how our care teams are built and how medical interventions are created and preferably targeted needs to be prioritized. With worsening chronic disease, cancer screening and treatment, maternal mortality, and other significant areas, impacted marginalized communities require more than improved access to care; they need to be involved in all facets that will lead to solutions. We need increased participation in the healthcare workforce and leadership, and a hand in developing the solutions that will help us — through the ownership and participation in clinical trials.
Whether pharmaceutical or digital interventions, marginalized communities have lost trust in the larger academic and commercial efforts that historically deprioritize the needs of the individuals involved in their development. Health equity must begin upstream by expanding community participation in all facets of clinical trials through culturally humble outreach and transparency."
Workplace diversity, from residency to patient outcomes
"Diversity in the workplace brings many benefits for healthcare employers, their staff, and their patients. Bringing together healthcare staff with diverse experiences, cultures, and backgrounds improves organizations' ability to ideate, problem-solve, and empathize with patients.
Our patient population is not homogenous. Our patients come from many different socioeconomic backgrounds and racial and ethnic backgrounds. Many also have language barriers. Therefore, it is essential to have a diverse healthcare force that represents the patients we treat. Studies have shown that physician-patient racial or language concordance correlates to improved patient satisfaction and adherence.
Creating a diverse workplace is important for medical students applying for residency. A study of 2008–2017 residency match data showed that an impressive 33.8% of applicants cited diversity as a factor in program ranking, an increase of more than 10% in the last decade."
Going beyond cultural competency to include the individual
"Patients present not only with varied healthcare needs but also expectations and beliefs, some of which are socio-culturally determined. Clinicians, in turn, possess expectations and beliefs that are shaped both by their professional training and experience, as well as by their social environment and broader societal norms that they inherit during their interactions with society. Diverse clinical teams bring a wider variety of experiences and perspectives, which help to understand patients better and as a result, inform clinical decisions better. They also help to avoid stereotyping patients based on their ethnic or racial background, as members of a more diverse team can pinpoint situations when a patient is not getting optimal treatment.
Patients' trust is higher when interacting with clinicians from similar ethnic and racial backgrounds; they are more likely to raise concerns if they don't feel heard and understood. Overall, cultural competency is not enough. Patients are more satisfied with the care they receive due to engaging with clinicians who devote themselves to treating the individual."